The St. Mary's Prayer Shawl Ministry began several years ago after one of our parsishioners saw an article in The Texas Episcopalian about prayer shawl ministries and decided that our parish should begin their own shawl ministry.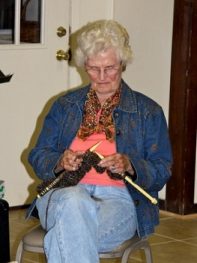 Members of the group meet for prayer and to lovingly crochet or knit shawls to give to people that need the warm arms of love wrapped around them.  The shawls are given to those that are ill, shut-in, suffered a loss, or are in the midst of a life crisis.  Since beginning, the St. Mary's Prayer Shawl Ministry has created and delivered over 250 shawls. Attached to each shawl is a tag that reads "St. Mary's Episcopal Church Shawl Ministry". There have been shawls sent to St. Luke's Hospital, to Rollins-Brook Community Hospital, to local nursing homes, and when special requests have been made by individuals.
The Prayer Shawl Ministry meets on the 2nd & 4th Sunday afternoons from 1:30 - 3:30 p.m. in the Parish Hall. If you are interested in becoming a member you just need to show up -- you don't have to know how to crochet or knit, they will teach you!
SERVING IN THIS MINISTRY ...

Sally Bozeman
Bonilee Garrett
Cheryl Ann Hall
Fay Mullins