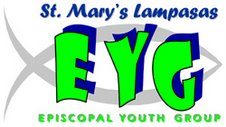 The St. Mary's EYG Youth Group is a community of young people grades 6-12. We gather each Wednesday evening from 6:30-8:00 p.m. We are Christian friends spending time together discussing a variety of topics in a casual setting.  We have good food & fellowship in the process! We will have some Saturday fun "adventures" this year such as a trip to Six Flags, to the movies or to the Main Event in Austin!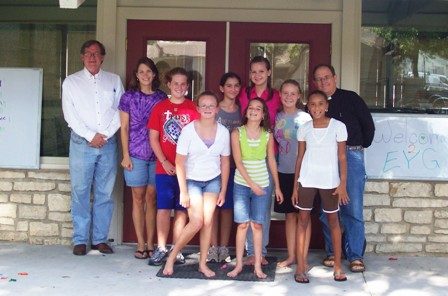 Our Youth Group visits the residents of the Lampasas Nursing & Rehab Center each 4th Wednesday. During the visits they share music, fellowship and just spend time getting to know the residents.
We have been on several summer trips. Our first trip was in 2009 -- our "West Texas Road Trip" which was a blast!! We traveled to Fort Davis where we stayed at a bed & breakfast.  While in West Texas the group went swimming at Balmorhea Springs, hiking, visited the McDonald Observatory, went to the Big Bend National Park and attended a church service at St. James Episcopal Church in Alpine.  Our 2010 summer trip was to the Frio River in Concan, Texas! We rented a house and spent 4 days swimming, floating down the river, watching the Frio Bats fly and listening to Cowboy poetry around a campfire. We also had several worship services together, including a sunrise service and a service around the campfire.  Take a look below at the he photo galleries from our trips and see what a great time we had!!
2009 West Texas Trip
2010 Concan River Trip