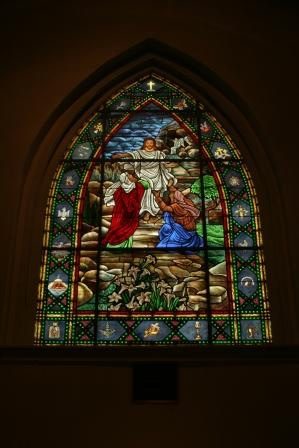 Located high in the west wall of St. Mary's nave, the Resurrection window depicts events of the first Easter morning as told in Chapter 28 of the Gospel according to St. Matthew.
 
Although each Gospel names Mary Magdalene as among the first to discover the empty tomb, St. Mathew's is the only account that mentions just one other person, a woman who is identified only as "the other Mary." Tradition holds that this woman was the mother of the apostle James the Less.
 
Shortly after the two Marys arrived at the tomb, St. Mathew's Gospel reads, there was an earthquake followed by the descent of an angel, who rolled away the rock sealing the sepulcher, only to reveal it empty.
 
"He is not here, for He has risen," the angel told the women.
 
As they hurried away to tell the Disciples of the miraculous event, the two Marys were met by the Risen Christ himself. On recognizing him, the women fell to his feet in adoration.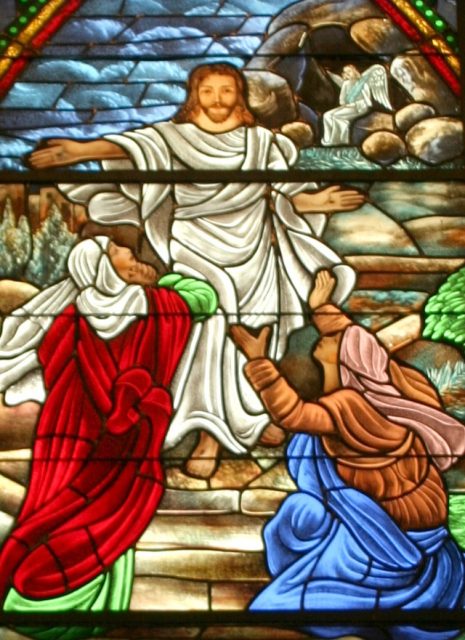 The window captures this instant, with Jesus and the women as the composition's focal point. In the background the angel sits at the entrance of the empty tomb. A distant city, presumably Jerusalem, is discernable beneath Christ's outstretched right arm.
 
Prominent in the foreground is a large bunch of white lilies, which, in this context, symbolizes the Resurrection. Two other features may also be symbolic. Cypress trees, on the viewer's left, are symbols of death. (Once cut down, the cypress does not grow new sprouts.) On the viewer's right stands a small tree, possibly a laurel, a symbol of victory, here, victory over death -- or everlasting life.
 
Those who enjoy a little "detective work" may wish to try their luck at solving the conundrum of the 20 symbols in window's border. A number of these symbols remains to be fully explained as to their specific meanings; although, there does seem to be a definite order that points to the cycle of Jesus' life, death and resurrection. A forthcoming document will offer more detailed analysis.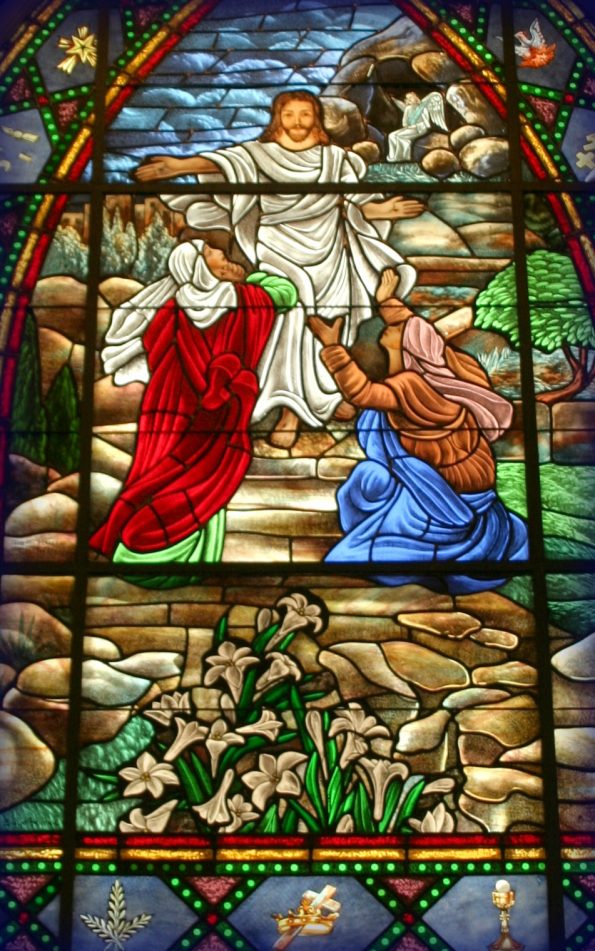 The window's lower left corner contains the signature of artist Emile Juneau. According to John Kebrle, Jr. of Kebrle Art Glass of Dallas, Juneau succeeded his father, John Kebrle, Sr., at Texas Art Glass Company of Houston in 1955. Prior to that time Juneau had apparently worked as the elder Kebrle's assistant at the Houston company. (St. Mary's has three signed and dated windows by John Kebrle, Sr., the Good Shepherd, St. Stephen and "Divine Love," which shows Jesus with children.)
 
Given by family and friends, the Resurrection window is a memorial to Sarah Jane Campbell-Scott, who died at age 90 in 1951, after more than 60 years as a generous and faithful member of St. Mary's.
 
Sarah Jane and her first husband, William Thomas Campbell, moved to Lampasas about 1888, and started the Lampasas Leader, a newspaper that served the community for 50 years. Previously they had run newspapers in other Texas towns, including Sherman and Waxahachie. A 1904 Leader article praised Sarah Jane for retaining the ability to set type even after 20 years of being away from the craft.
 
"She never got away from loving to be near the smell of printer's ink, she told this publisher more than one time," stated her obituary in the Lampasas Record.
 
Besides newspapering, Mr. Campbell was also a grain merchant, real estate broker, and banker. With the sensational 1901 discovery of oil near Beaumont and the subsequent development of the Spindletop field, Campbell also became an oil tycoon. He, along, with former Texas Governor James S. Hogg and others, founded the Texas Company, which became Texaco Oil, one of the world's biggest oil companies until it merged with Chevron in 2000.
 
Family sources indicate that after Mr. Campbell's untimely death at age 47 in 1906, many tried to buy the Campbell interests in Texaco, but Sarah Jane refused, much to the benefit of her family – and St. Mary's. Once called the "First Lady of Texaco Stockholders," Sarah Jane was the first woman to attend a stockholders meeting.
 
Also active in community life, Sarah Jane was President of the Lampasas Cemetery Association for 50 years. She was also a member of the Ladies Orchestra, a group that often provided music for community and social affairs.
 
In 1911 Sarah Jane married Prof. George Dallas Scott, superintendent of Lampasas schools. Most likely for business reasons, she chose to go by "Campbell-Scott." Professor Scott died in 1933.
 
Sarah Jane Campbell-Scott and her family left an indelible mark on St. Mary's. In addition to the Resurrection window, the main portion of the parish hall is also a memorial to her. The newer, southern half of the building is a memorial to her son, Villard. The addition of a church office to the parish hall was dedicated to the memory of her other son, "W.T." His wife, Lula (Bonilee Garrett's aunt), gave the stained glass window, "Christ the King," for the new office.
 
The "Good Samaritan" window over the altar is a memorial to W.T. Campbell, Sarah Jane's first husband and father of the W.T. Campbell mentioned above. Memorials to two of Sarah Jane's grandsons include the Good Shepherd window in the church (to Robert Douglas Campbell) and the processional cross (to Henry Campbell).
 
Sarah Jane also gave the St. Cecilia window in the north wall of the church in memory of her friend, Mary S. Carpenter.
 
Perhaps Sarah Jane's greatest gift to St. Mary's was a legacy of service. Her descendants have remained active in the church for more than 120 years. In each of four generations, a family member has served as Senior Warden. The most recent was Sarah Jane's great granddaughter, Mimi Campbell Cole. In recent years Mimi's nephew and two nieces were confirmed at St. Mary's, making the fifth generation of Campbell communicants.
 
© Jane McMillin